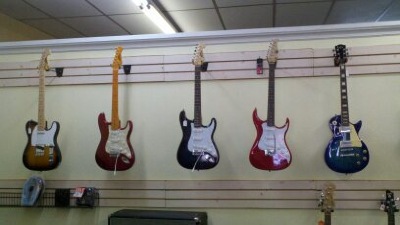 Stadium strat style (new)--- solid alder body w/ 1 piece Maple neck
Lacquered Maple finger board, pearloid pick guard $279.95




Stadium Tele style with maple neck. $229.95 ( NEW)

The Stadium guitars have done well for us. They are quality guitars for a very reasonable price. We invite those who might be interested to come by the store and play them for yourself.

Stadium Electric solid alder body, 1 piece maple neck, rose wood finger board.
DI-cast machine heads ---- blue burst $189.95


Blue LP style ............a low...............$199.99

AXL red strat style (new) $189.59


AXL 1/2 size blue new ----------------------------------------------- $ 149.95





Electric Bass guitars

Starcaster J-bass 4 string ==(black)===(s-burst)==========$289.98







4 string black Stinger Bass ........................... $189.95